The best runner in our training group over the track season past was without question
Colin Farlow
. He proved himself to be the best middle distance runner in Canberra when he won - for the second year in succession - the prestigious Pennington series, which is handicapped according to age, and therefore a good measure of one's relative ability.
Colin turned in top track performances week after week, and also set a fine example of regular training and of encouraging other runners in the group.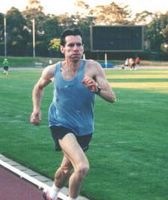 Colin putting in a big effort.
Colin's wife Amanda, also an accomplished middle distance runner.
Also in our training group, the best middle distance female runner in Canberra was
Maria O'Reilly
. Maria broke the W50 1500 metre record during the season. Her high places in the Pennington series too marked her as the best performed woman.
Maria and her mother

Congratulations to all our track stars. Many of you set records, notably in relays, and many of you placed in championship events.
At our dinner last night we recognised you all; and we singled out both Colin and Maria for special mention.
.